Who Killed Hunter S. Thompson?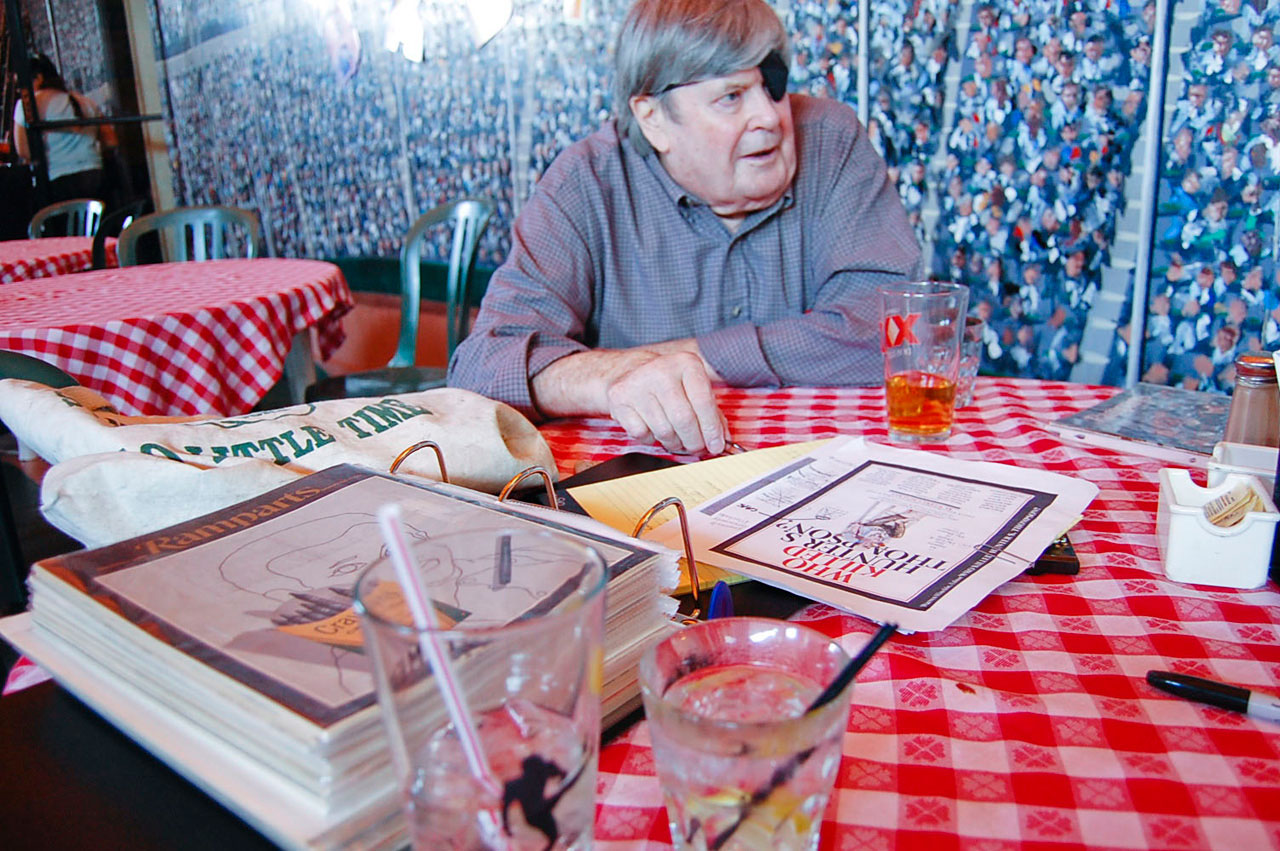 All Photos © Kensey Lamb
On one of our very last days in San Francisco, Kensey and I spent the morning with legendary magazine publisher and award-winning journalist Warren Hinckle III at the Double Play down in the Mission. Walking in, loaded down with binders of magazines, camera equipment and with big smiles on our faces, we looked like a couple of lost tourists. I suspect that if I hadn't slipped Warren's name into my ginger ale order I might have been shown the door. But, as it was, the bartender poured the drink and happily pointed us in the direction of Warren's booth, where we settled in.  Arriving a few minutes later, and sensing that our presence already had the morning crowd a little restless, Warren quickly herded us to the back room. 
I was there to share my collection of Ramparts and Scanlan's to see if there was anything he wanted to scan for his book, the perennially delayed Who Killed Hunter S. Thompson: The story of the birth of Gonzo. Lavishly illustrated, the book is, at last count, clocking in at over 400 pages full of original material from many of Hunter's friends and overflowing with ephemera…guaranteed to be a classic when it finally comes out.
As he thumbed through the magazines and showed us proofs of the book we talked about his friendship with Hunter; the roots of Gonzo journalism and the culture that spawned it; his tenure at the groundbreaking radical slick, Ramparts magazine, in the '60s; working with Hunter at his short-lived, but highly influential, muckraking monthly Scanlan's; the Kennedy assassination; San Francisco's favorite merchants of porn, The O'Farrell brothers; and much more. Enjoy!
___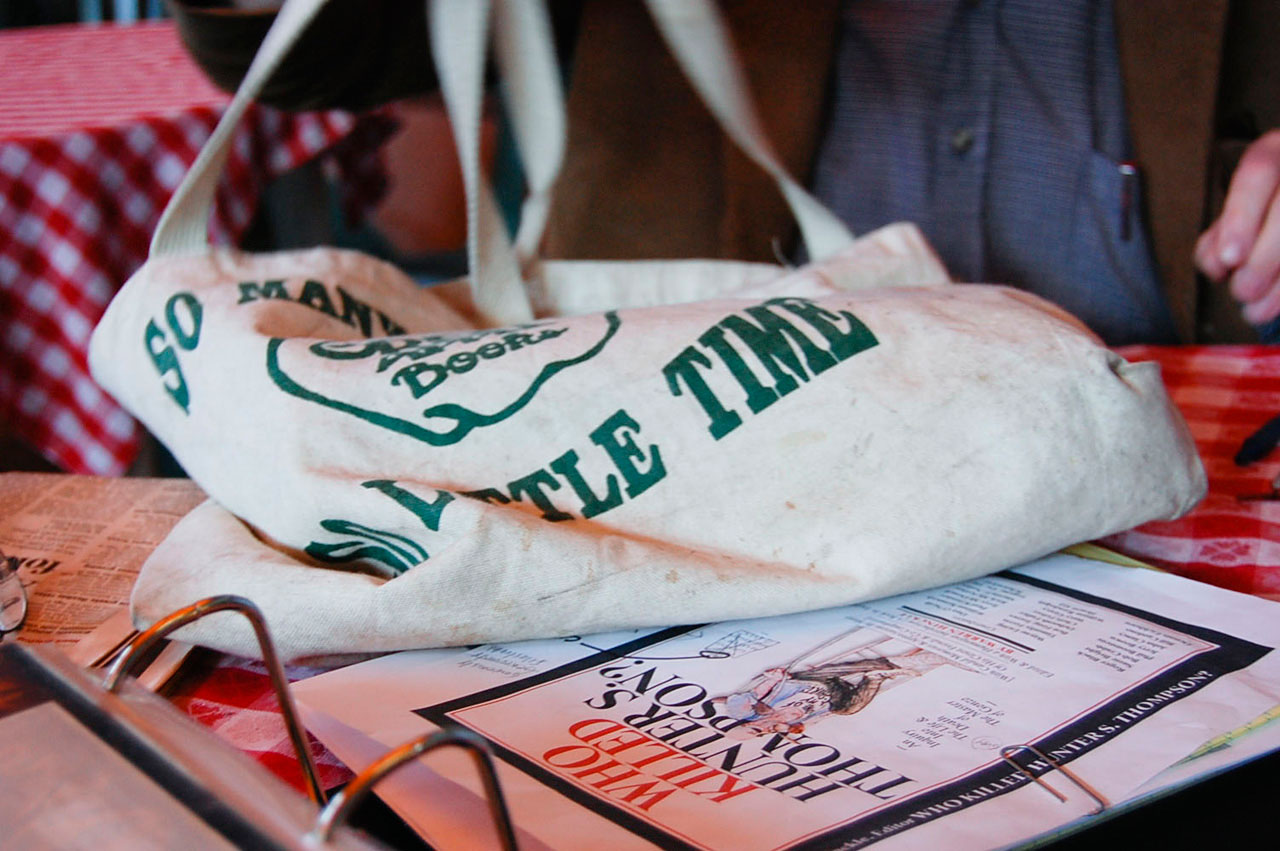 What's the genesis of Who Killed Hunter S. Thompson? I know it's been delayed since 2005.
It started right after Hunter shot himself and, originally, was going to be a tribute to Hunter. I called all his friends, ones I was close to, and, you know, had to beat a few people into writing things who had never written before—like Bill Cardoso who hadn't written a piece in 20 years and famously never gets anything completed and done. So we extracted a lot of manuscripts, and probably, within a year, kind of had a book, but it kept developing and we decided it was going to be a non-profit book. We said we'd give a prize—wouldn't be any money, a Gonzo prize or something, god knows what the criterion for that would be. But we figured hey, we'd make a movie instead, get all these people together in a room at the Mitchell Brothers [O'Farrell Theatre]. I just kept finding stuff and thought there's no rush because, you know, it's [Ron] Turner's place [Last Gasp] and he puts out art books mostly anyway, and there's no rush on these things. And everybody's doing other projects, and we didn't have any staff, so we ended up producing the book, which took a lot longer. This was a massively complicated book, and so all of a sudden, we got in the middle of it and that added a year or so to it. Stuff just kept popping up, I mean really treasured stuff…underground cartoonists' little home publications that were comic books with color covers but maybe they had a 1,500 run, little collectors run…fabulously interesting stuff about Hunter during the Mitchell Brothers period and other times. And so that became a section. Anyway, it just kept growing. And so Turner is always, "When's it going to be done?" And I said, "Well eventually."

We finally did a bunch of screwing around with this book. Turner will tell you that's all I've been doing.

[Laughter]
It sort of makes a little more sense now: we finally have [figured out] what the book's about…I think.  It's all this Ramparts and Scanlan's stuff, and it's like, "What's that got to do with Hunter?" We sort of fit everything under Gonzo journalism in the general sense—how that stuff all started. Hunter always said Ramparts was a Gonzo magazine, and I said, "Bullshit!" You know, it was just leftie bullshit wrapped up. And he says, "No, no, no, you broke all the rules, you smashed plates, you did everything, you drove everybody nuts, it was in your face, it was Gonzo."  [The book will also have] all his faxes, his personal stuff to people in the middle of the night. You know, he always would have crazy letterheads and wrote with a big heavy felt tip pen. Wild stuff.

Anyway, now we're going with Who Killed Hunter S. Thompson: The story of the birth of Gonzo. It takes the edge off the title. That was Turner's idea for the title, and originally Hunter's fans were…some of them thought it was funny, some thought it was disrespectful, but now that we have the story of Gonzo and [the] colon, there's a reason to have all this stuff. And it's all Hunter centered and about Hunter, but its also about the period and how it all came together.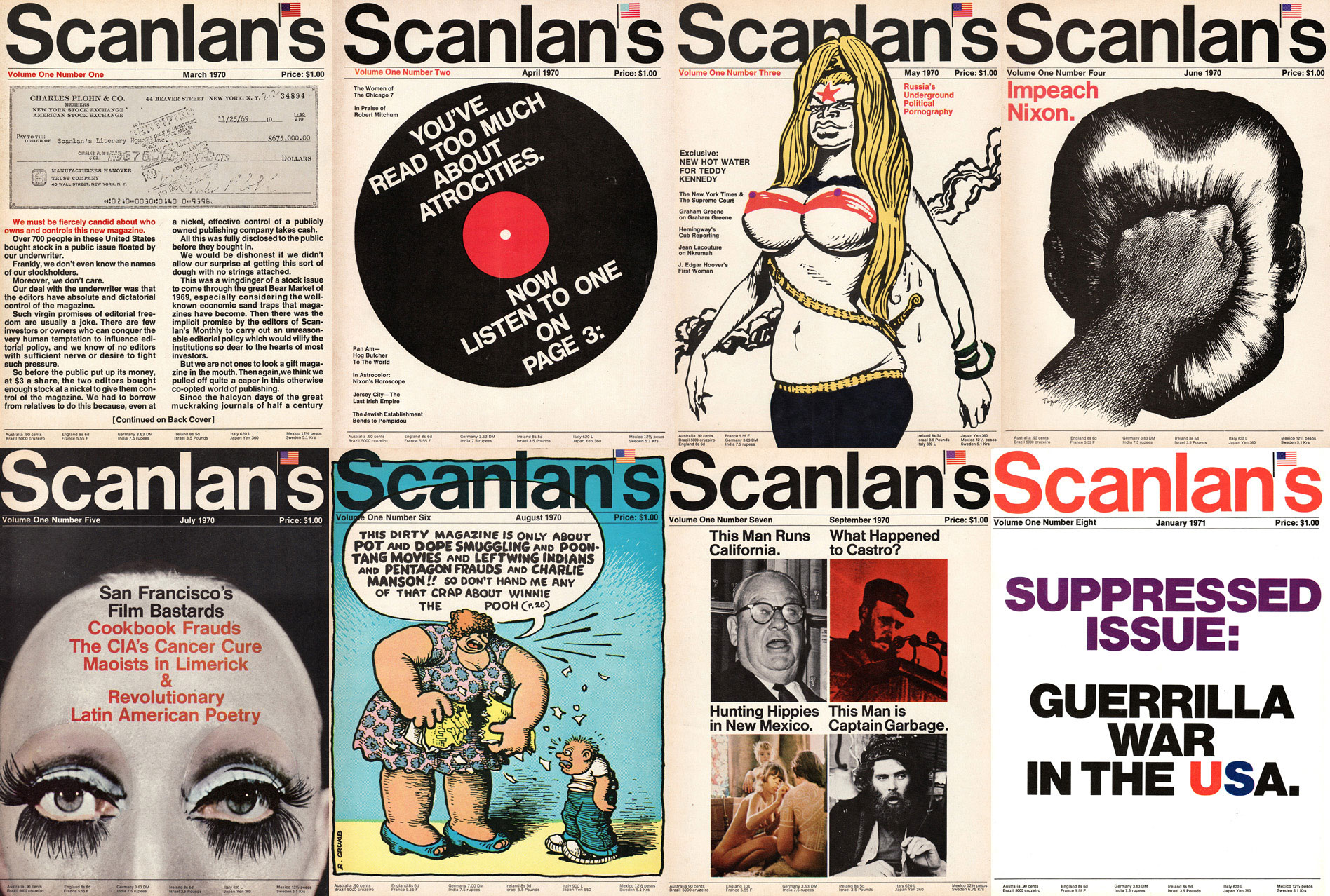 All eight issues of Scanlan's. Click to zoom.
It sounds to me, and even just looking at some of the proofs here, that it will stand out. People who are fans of Hunter, these are the questions, the things we're interested in.
Nobody's done this stuff. Well, I mean, there's this book about Ramparts now, and I did a memoir thing way back [If You Have a Lemon, Make Lemonade: An Essential Memoir of a Lunatic Decade], but all the artwork that's in there, even up through S. Clay [Wilson], that stuff, when you see it all together you go, "Jesus, what is this stuff?"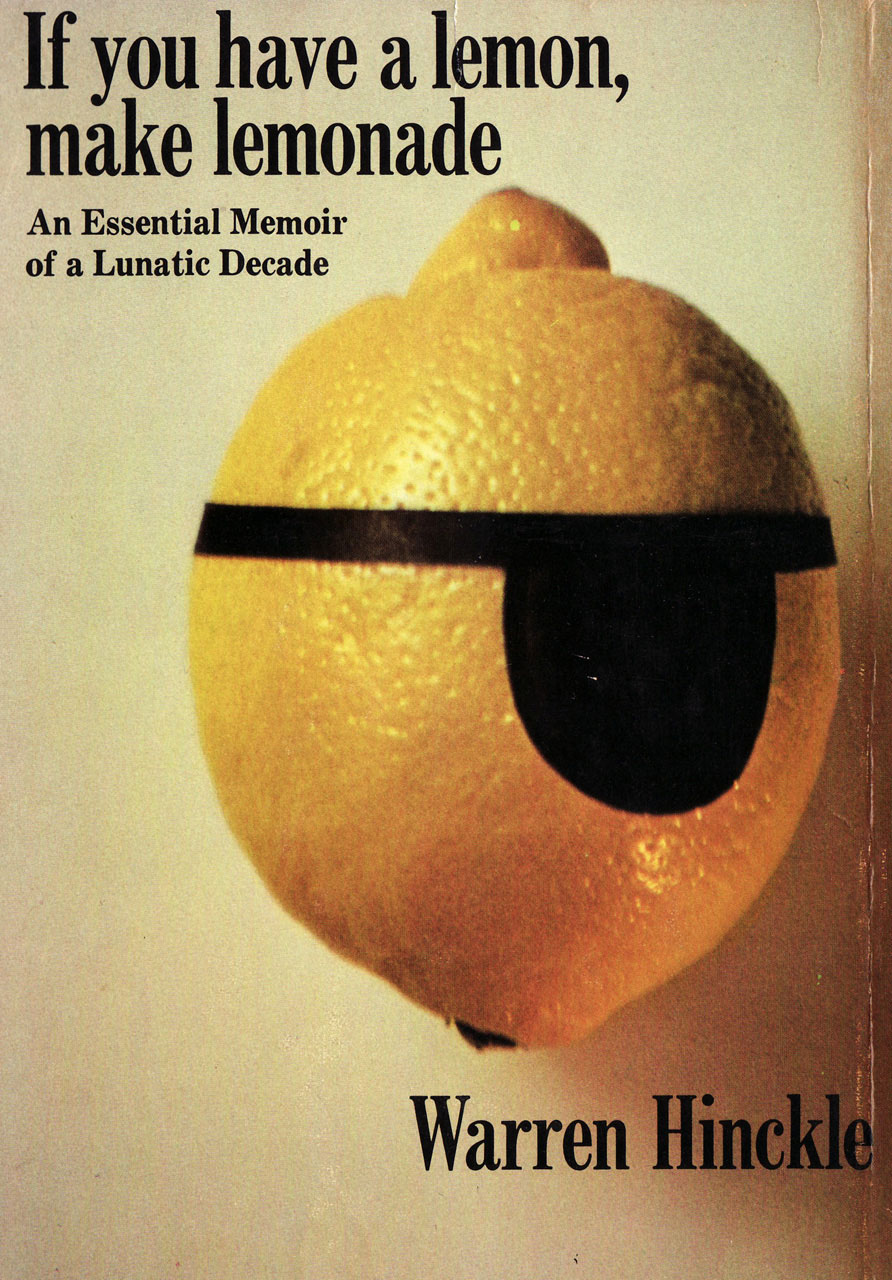 I've seen Hunter's name on the masthead of Ramparts—I think in late '67—and was wondering if he ever wrote any articles?
No. Erroneously it has been reported that he wrote for Ramparts but he never did. We pretty quickly became friends and started talking on the phone all the time, and he was in Chicago when that whole madness went down, the riots and everything. We were always talking about projects for him to do at Ramparts. We just never quite got around to figuring which ones or anything definitive. I remember we did the Kennedy assassination issue. He called me and said, "That's it, I…" I'm trying to put this in context: when was the moon shot?

'69? July?
Maybe it was still Ramparts or maybe that was a Scanlan's idea. I'm trying to remember now, because he was sure the moon shot was a fake, and he wanted to go to some place in Montana where he knew they had this fake landscape. I'd have to check the dates. Anyway, at the time, we were always mulling over projects and ideas, and then Scanlan's started. And fortunately we had plenty of money, and Hunter likes money, and so immediately boom, boom, boom this stuff went on. But of course I stuck him on the masthead right away. We just never got around to getting anything done [together at Ramparts].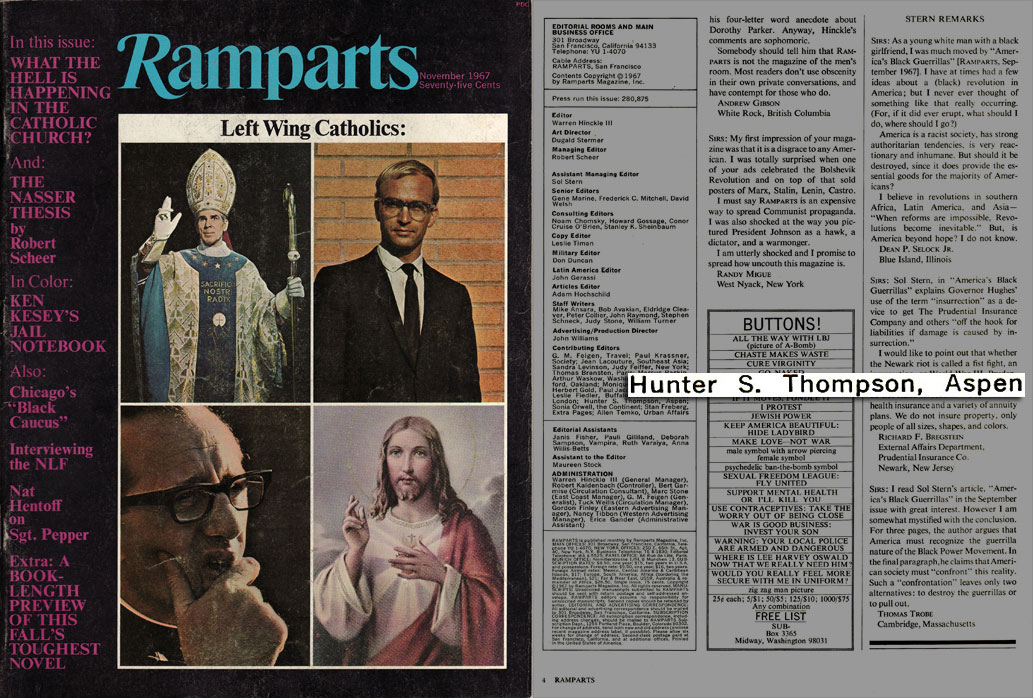 Hunter S. Thompson's name first appears on the Ramparts masthead, November 1967.

But he was a friend of yours during that time period in the late '60s at Ramparts?
Oh yeah. I never knew him before. He just walked into the office one night. He walks in my office says, "Yeah, I'm Hunter Thompson." This is after the Hell's Angels book, and I'd read it and it was terrific. So anyway, we had a couple of drinks; I know we walked up the street. This is when the Ramparts offices were on Broadway at the very end at the top of the strip. So we went up the street to have dinner and came back. I had a monkey at the time—named Henry Luce to piss off the guy at Time magazine, which did get him pissed off. (Luce found a reporter and asked him if it was true those people up there have a monkey called by my name? It made me happy.) Anyway, we get back (Hunter had thrown his knapsack on the couch in my office) and I hadn't locked the [monkey's] cage or something like that. The monkey had gotten out and gotten into Hunter's knapsack. And it had a whole bunch, a lot of bottles of pills in there, and they were all over the floor but they were all empty. The monkey must have gobbled them all, well obviously he did, and he was berserk. He was just running. It was an old government building where they did scientific research (I'm sure poison gas), and they had these government-type windows on the side, and in the whole center of the space were these partitions, half wood and half glass you can't see through. The monkey was running around the top of that thing and it had its leash on—the leash was flying! And it just turned into a completely vicious bastard. It was a sweet monkey before. It was up there for a day or so. No one was going to touch the goddamn thing; it wouldn't stop running. And Hunter just sat there and said, "Goddamned monkey stole my pills." It did steal his pills. I said, "Fuck you why didn't you lock your knapsack?"

"Why should I lock my knapsack? You should have security around here."

"Not from the monkey." 

There was the period when you were at Ramparts, and then there was Scanlan's and Gonzo journalism and all of that stuff, but after that, in the '80s you were working at the Examiner with Hunter….
Oh yeah, that's another big thing in this Hunter book. That whole Examiner period and the Mitchell Brothers period. The introduction, which is this thing I wrote, mentions everything. And it's at least a third of the book; that's where most of the illustrations come in, that history. But that includes the whole Mitchell Brothers period, which is not that very well-known. It's kind of known he was the night manager of the Mitchell Brothers [O'Farrell] Theatre, but those stories are fabulous and the adventures extreme. And there's a lot of art and photos from that period. It's not about inside the sex business, it's about this bizarre cultural part of San Francisco where these porn merchants were actually the Medicis of the fucking town. They were the ones really laying out money for artists and having this open place where even politicians would come to connive at night. It was like some great 19th century operation in this bizarre atmosphere of naked women running around, the shows, the constant fights with the authorities, and Diane Feinstein going crazy. It's a wonderful period. And part of that was the Examiner at the time….
A Hearst paper…
It became a really interesting paper. It became extremely wild and crazy and liberal, and it didn't have anything to lose because it was the second paper in a land-lock, JOA, joint operating deal where they got half the money. Anyway, the Chronicle became more and more conservative after my friend Scott Newhall, another madman—a genius—left, got kicked out because he saved the paper. So Will Hearst got it for a period of years. He became the publisher. He has a concentration span about as long as a straw, a very rapidly changing mind. Will, I know him quite well, he's a good guy. He wanted to do the paper to have some fun, and that fit perfectly with the Mitchell Brothers cultural period, and Hunter being there and me being friends with these guys. I mean, you look back at the time and the Mitchell Brothers got very good treatment in the Examiner. Sunday Magazine spreads…"The Mitchell Brothers are home with all their kids and boxes of Wheaties." They were friends, and the government was against them, so it was crass. It was a very funny period.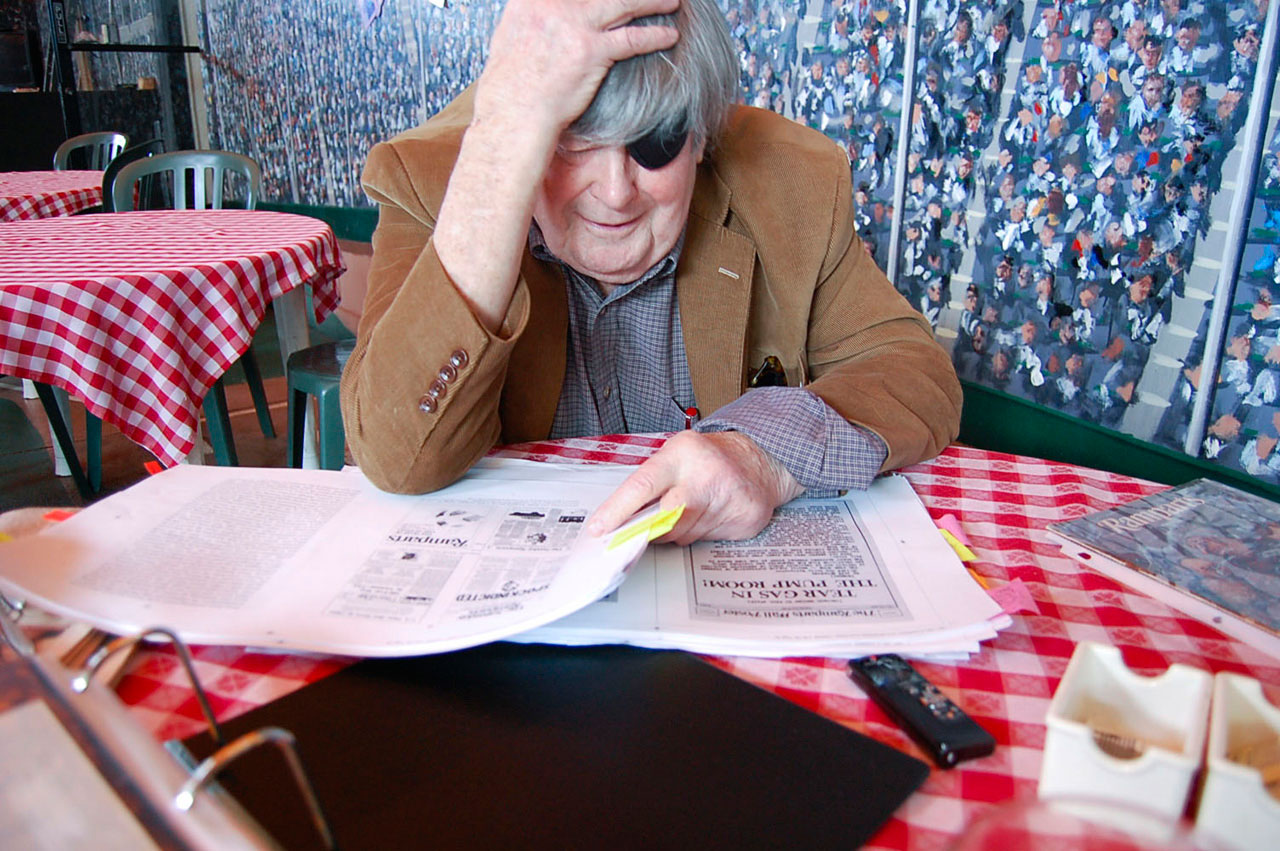 You were coming from working at the Chronicle, right?
I was then writing for the Chronicle and doing pretty well, and he [Will Hearst] stole me from them to go to the Examiner—because I didn't care if I did stuff nationally or locally, it never made a difference to me. You're doing journalism. Shaking up the town is just as much fun as shaking up the CIA, and I didn't have to go out and raise $2 million a year. I got paid for a change; I didn't have to worry about it. So naturally, I told Hunter, "Hunter, you gotta get in on this deal."

So that whole period was extraordinarily funny, and the Hunter columns that appeared in the Examiner…it's unthinkable that they would appear in a Hearst newspaper. They were so off the wall, so wild…getting his girlfriend a tattoo to get a column to beat the deadline, that sort of thing. "What the fuck am I going to write?" Extraordinarily funny stuff. And you know the Mitchell Brothers [O'Farrell Theatre] was his office and so was the paper, and so he'd be going back and forth. And the paper was, then, very lively.

And a good part of the period, when San Francisco was a much more interesting city than it is now, part of that blossoming of eccentricity was very 19th century almost. It was a crazy town in the 19th century, obviously, and journalism was nuts. Western journalism, in general, was nuts. And I guess you could say that western journalism was the first, some of the first, Gonzo-type journalism—all the way from people putting themselves in the stories to totally making things up to getting into gun fights. Mark Twain wrote some of the first science fiction. Hoax. Eastern newspapers did hoaxes too, moon hoaxes and stuff, but Mark Twain had one famous thing, it was in Territorial Enterprise. He had a story which everyone took to be true about a guy who walked across the desert in Nevada—got across the desert with an ice helmet. He created a helmet out of ice because it kept him from the heat and he still had water. Completely made up! And it was reported around the country in the eastern papers. But that was the type of stuff that we did. And that was the type of stuff they did then.
I always thought that what a lot of what these magazines did and a lot of what Hunter would do was a wonderful throwback to what the stuff should be. And it seems so lively and fresh because of the contemporary issues, obviously, and the contentious time in the culture. But it was visible and fun and participatory in the sense that they'd go, "What the hell!" And enjoyable and seeable, graphically and physically. The personalities involved were there on the set. They were a little outrageous, a little larger than life, but they were actually doing what they were writing about and that was true of the century before. And then there was this great desert period of American journalism and they put not only the muckraking magazines out of business, but sort of the life of the…the spirit of the publishing business then became this great centrism and boring and that sort of broke out in the '60s and '70s with these crazy magazines of Gonzo and that sort of stuff. That's kind of petered out again now to a kind of mild version of that.

But America is all about its civilization. They'll be teaching courses on Gonzo in journalism school—and you can't learn how to do it. Anyway, that night manager period at the Mitchell Brothers is a serious part of the San Francisco cultural history because it takes in politics and art and crazy people and you know…it was fun to do and be there and it's fun to read about.