Spain Rodriguez | Studio Visit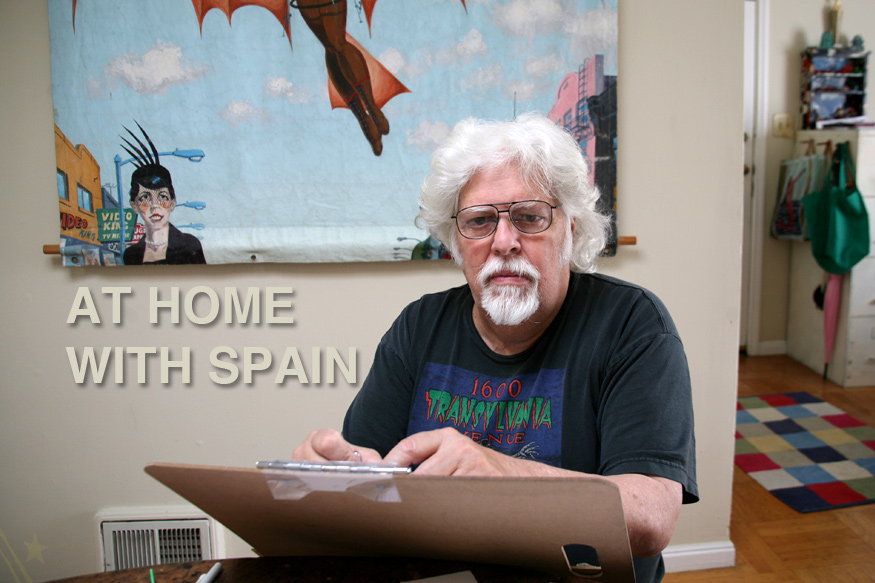 I recently completed work on a book about the sixties underground press, On the Ground (PM Press), and in the process of putting it together I've gathered way more content than I could ever hope to possibly cram into the thing. Instead of sitting on it all,I'll be sharing a series of left over interview snippets and scans that didn't make the final cut, but which I still think you'll dig. First up is a studio visit at the San Francisco home of comix legend Spain Rodriguez.
Buffalo native Manuel "Spain" Rodriguez was an early contributor to the fledgling East Village Other who published his seminal underground all-comic tabloid, Zodiac Mindwarp. It was while working as a full-time EVO staff member that Spain developed and introduced his popular character, Trashman, Agent of the Sixth International. He moved to San Francisco in late 1969 just as the underground comix movement was starting to explode and became a member of the original Zap Comix crew along with Robert Crumb, Victor Moscoso, Rick Griffin, S. Clay Wilson, Gilbert Shelton, and Robert Williams. He was one of the founders and prime instigators of the hugely important, though short-lived, cartoonist labor union, the United Cartoon Workers of America, and hasn't stopped working since. Ever prolific, his recent work includes the celebrated illustrated biography of Ernesto "Che" Guevara, Che: A Graphic Biography.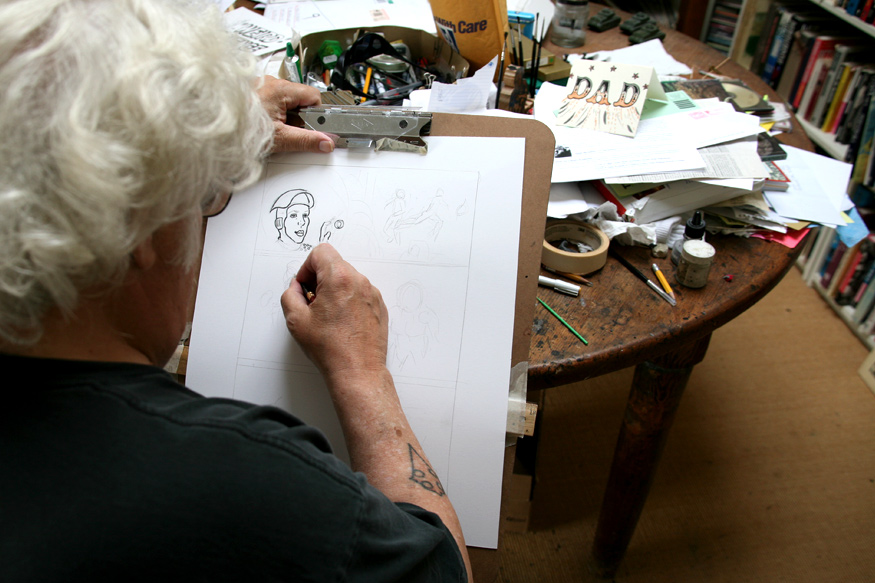 Spain on…
Abstract Expressionism vs Drawing Comics:
As a kid I read comics and was always interested in perfecting my style. When I worked in a plant I was always sneaking off and drawing. Then when I went to art school, the big influence was a guy called Clement Greenberg, who was the ideological guru of abstract art. They didn't like good drawing, but it's just an impulse I have; I just like to get things right. It's funny, ideologically I'm kind of in that school of thought, but it's just that I like to draw. If you look at the history of visual images, at some point in the Byzantine Empire they tried to suppress the visual image, and people just didn't want to hear it.  Some artist…they burnt his hand, so he tied his brushes to his wrists. So it's a strong impulse.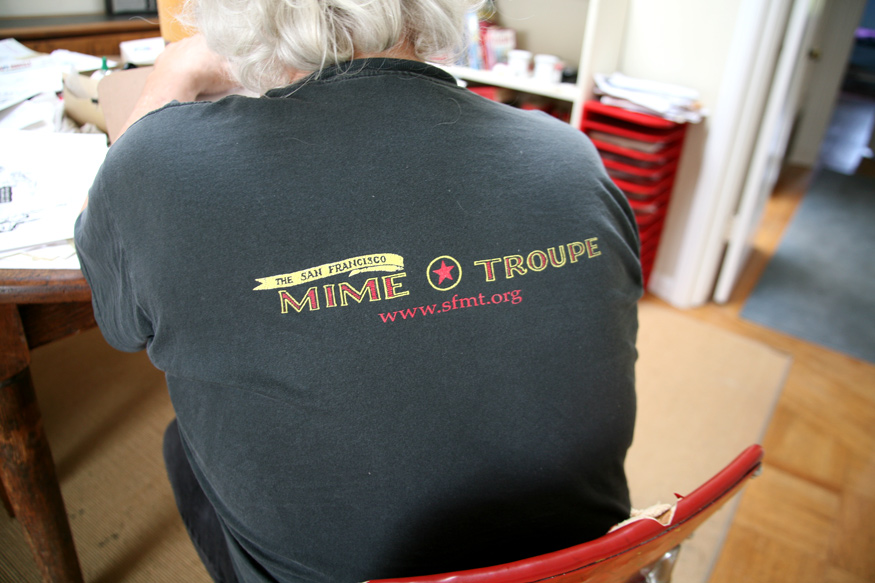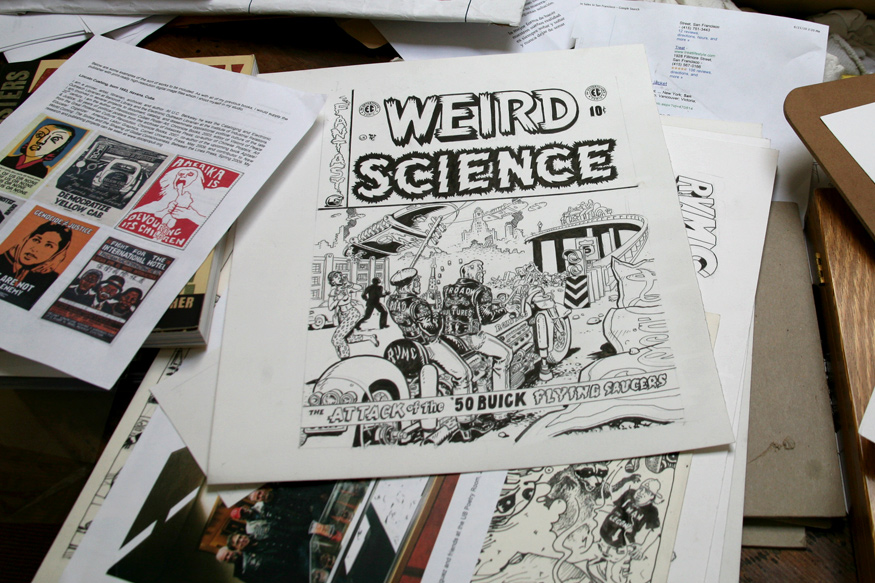 The first comic I saw, there was this kid that was living upstairs and he had this Plastic Man comic and in it Woozy Winks, the pal of Plastic Man, had this outhouse with this big fucking blade on it.  I was about four when I saw that—I knew what an outhouse was, and I knew what a helicopter was—and I'm trying to draw it and couldn't quite get it. It was real frustrating, but over the years, the more I draw the more I get that 3d stuff.  It's a kick for me.  I was in Mexico City, and I saw David Alfaro Siqueros' mural in the stairwell of this electrical workers union and to me it's my favorite thing in art history—the angles, the aircraft carriers sticking out in different directions, I love that stuff. On one hand I kind of absorb that theoretical idea that art is abstract, it actually is a flat surface, so you are dealing with these abstract elements. But you know, this is what I want to do.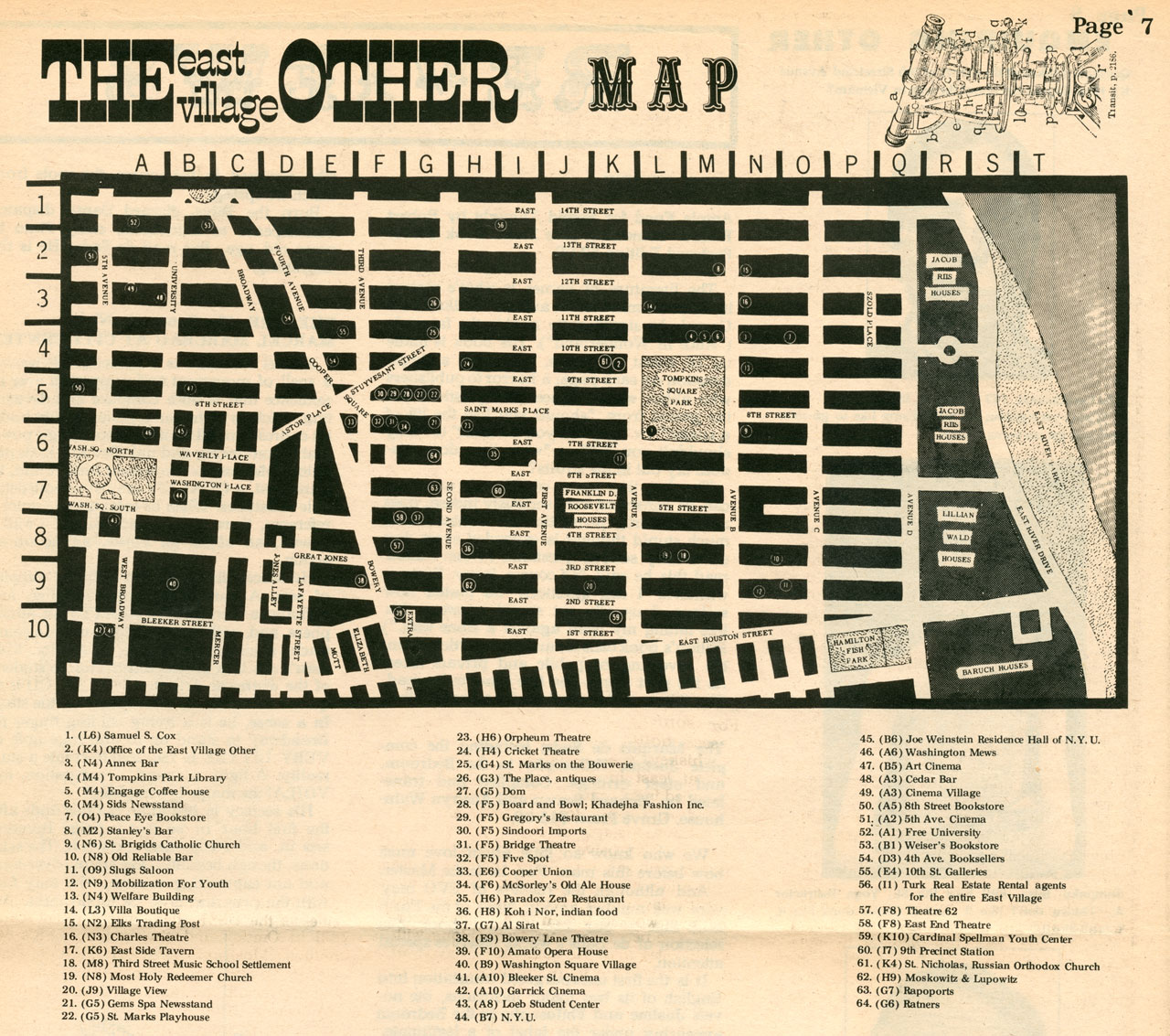 The 'East Village' as a distinct neighborhood was largely an invention of the real estate industry, and the term was first put into wide spread use during the sixties. Though the LES doesn't extend above Houston today, for all intents and purposes the area shown above was still considered a part of the LES by its residents when the East Village Other published this neighborhood guide in 1966. Click to zoom.
The Lower East Side:
It was kind of a wild time, the Lower East Side. The interesting thing is, as I study more stuff, the Lower East Side always was like that.  In the 1800s it was like that. There was always all this shit going on; there was all this radicalism.  My take on things is that there was a party that started in the 1830s in New York that never stopped.  All these people come in and out but it never stops, if you go there you can get in on the latest version of the party, but this was us during that time.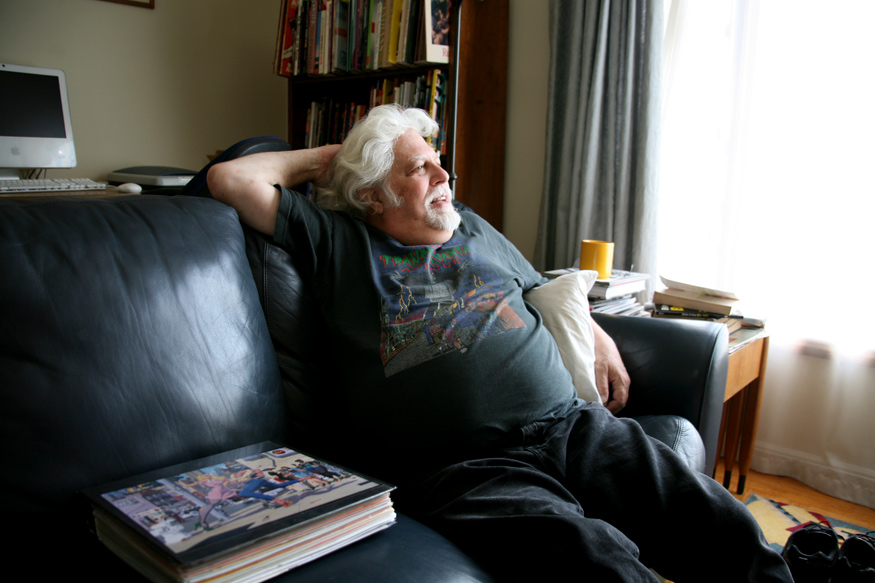 Vaughn Bode:
I actually turned him on to grass. He was the squarest guy. He comes from Rochester, and Rochester's not too far from Buffalo, and Rochester is kind of known by Buffalonians for its squareness. But he had these brilliant ideas.  I never conceived of anything set up that vast, and sure enough he had all this stuff. He had this style that I think he did with Pentel, so he would just knock this stuff off. He did stuff in skin books and all this stuff. And a lot of graffiti artists picked up his stuff—they love him.  But then he changed. I hadn't seen him for a bunch of years and he had this long hair and this rap, this pop mystical rap. I was a little annoyed when my ex-girlfriend was living with him because I was a little disappointed in her and her taste. He was a real creative guy, a nice enough guy, but it was interesting seeing that transformation.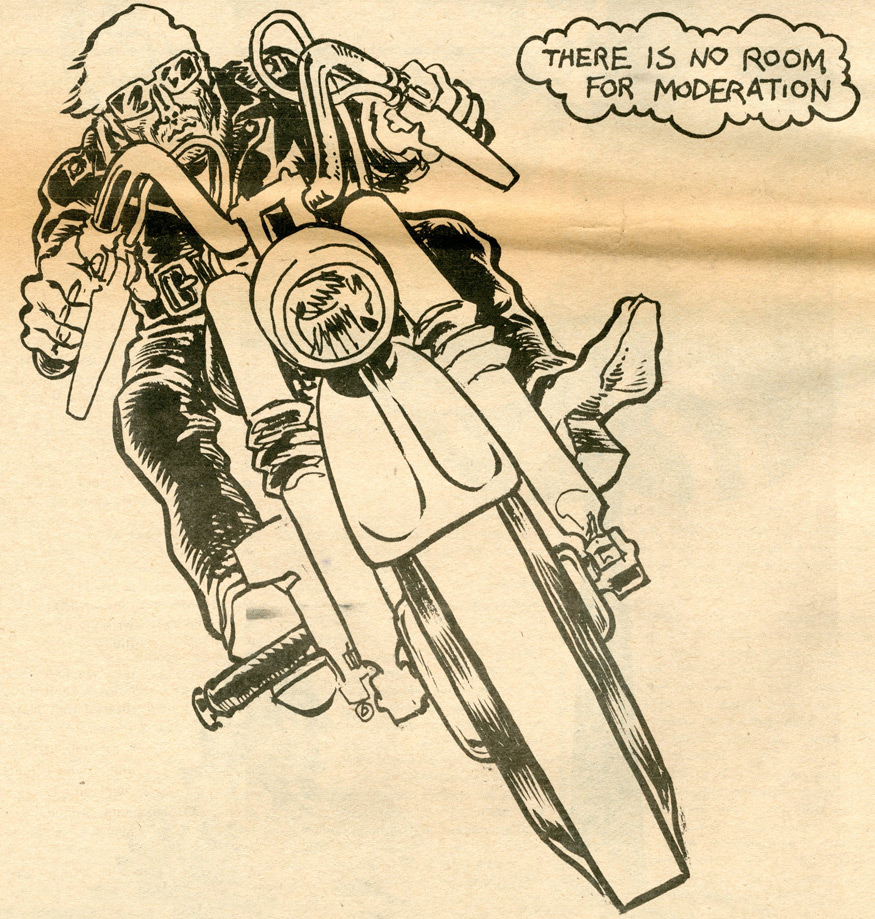 East Village Other (1969)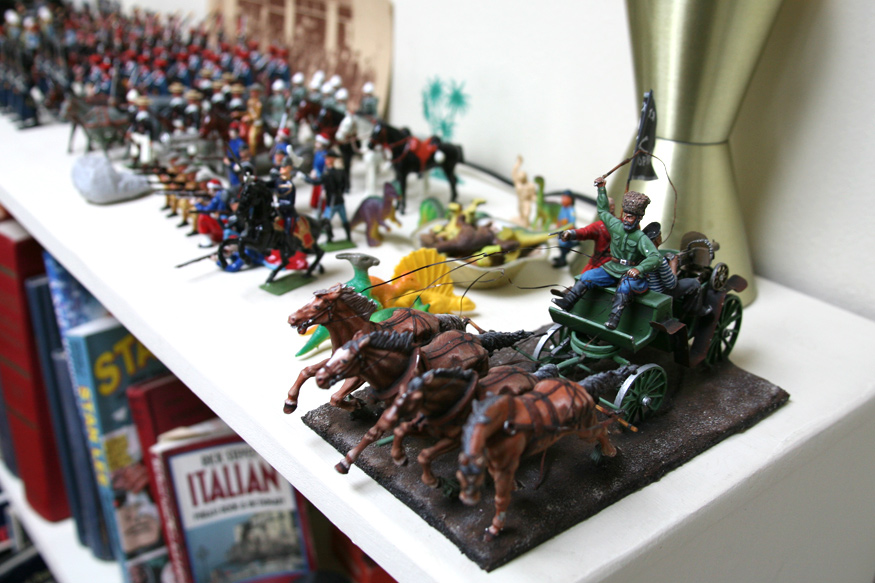 Trashman's politics:
I had been interested in politics and history when I was in high school but, you know, it was more instinctual and more aesthetic and it slowly evolved.  There's a party, and they're probably still around, the Socialist Labor Party, and they would have these get-togethers, and I would get involved in that.  So, you know, I developed a Socialist outlook.  As a matter of fact, me and Walter Bowart [editor of East Village Other] would get into these intense discussions on those issues.  So once I did Trashman, I already had that kind of Marxist outlook.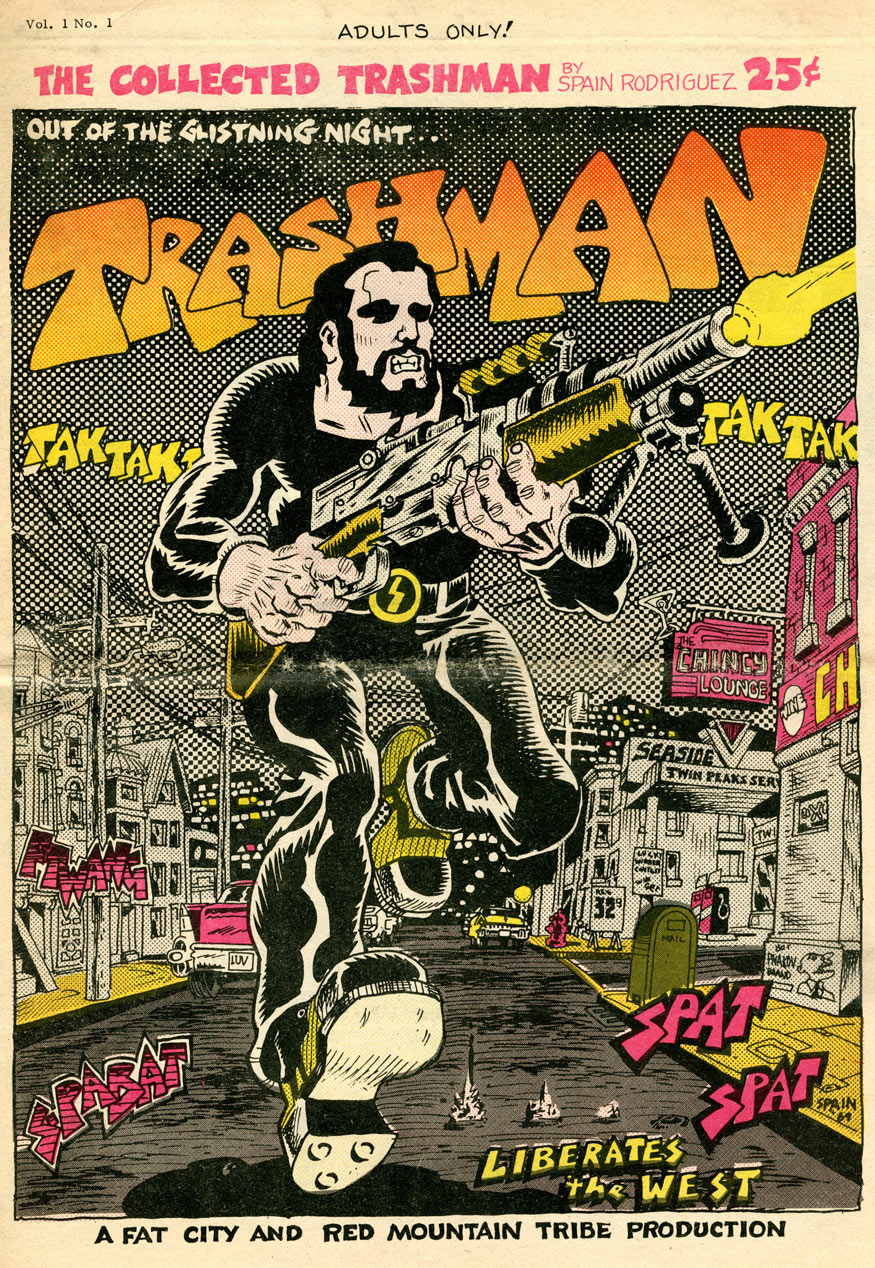 The Berkeley Tribe published this collection of Spain's iconic Trashman comix in 1969.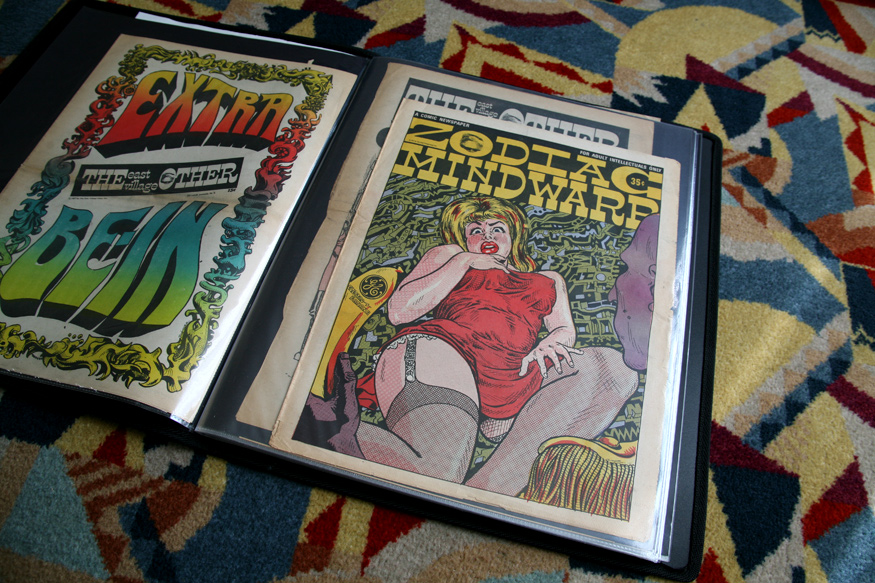 Emmet Grogan:
During the Summer of Love I was on acid and the East Village Other was still over there on Avenue A—Emmet Grogan comes in and says, "Oh yeah, the Haight really sucks now, man.  There's all these pimps and guys staggering out of doorways with syringes hanging in their arm." I go, "Man don't tell me that. Don't say that." Here I am on acid and you're telling me bad things about the Haight Ashbury.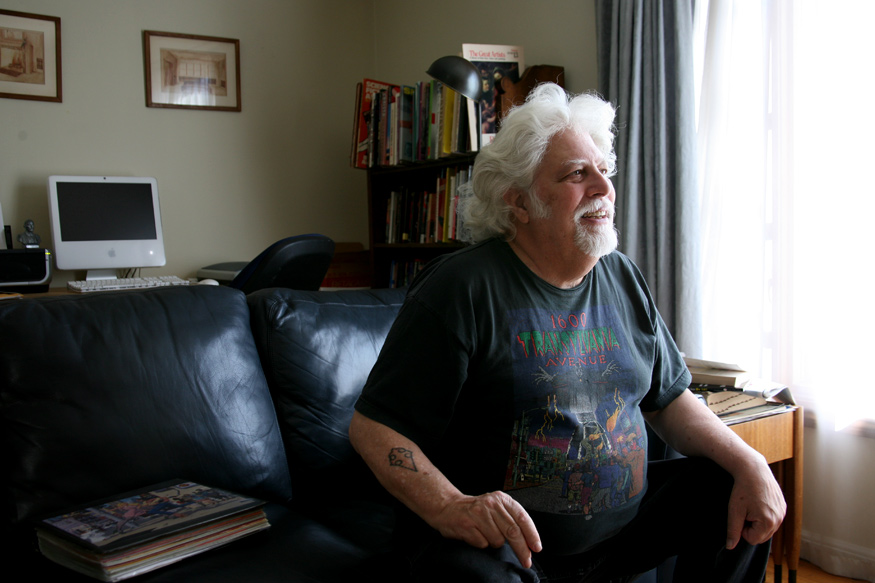 Zap:

Zap, of course, was the top of the line. Crumb did this act of radical generosity, giving the comic to us. Later on I think he had some regrets, but part of the thing…it's a collective by the most uncollective guys you can imagine. People just had to work through that. The thing is that everyone has a veto, and I think Crumb's idea was that more people would come in, but one guy can just say, "No, I don't want any more guys to come in." And that kind of worked, because that became the format, to have these seven guys. At some point Crumb got pissed and took off, just left Zap. But, anyway, we turned out good stuff, I think.
Comics as a career:
This is what I love to do. I actually never thought that it would last. I thought sooner or later this is going to collapse and I'll try to get a job at Marvel or something, but it just kind of kept on going. There were times when I thought, yeah this stuff is dead, and then something would happen. We had this big show, I think it was '89, in New York City at the Psychedelic Solution, and there were crowds going around the corner. I kept thinking, "This is the height of my career, from here it's downhill." But something keeps coming up.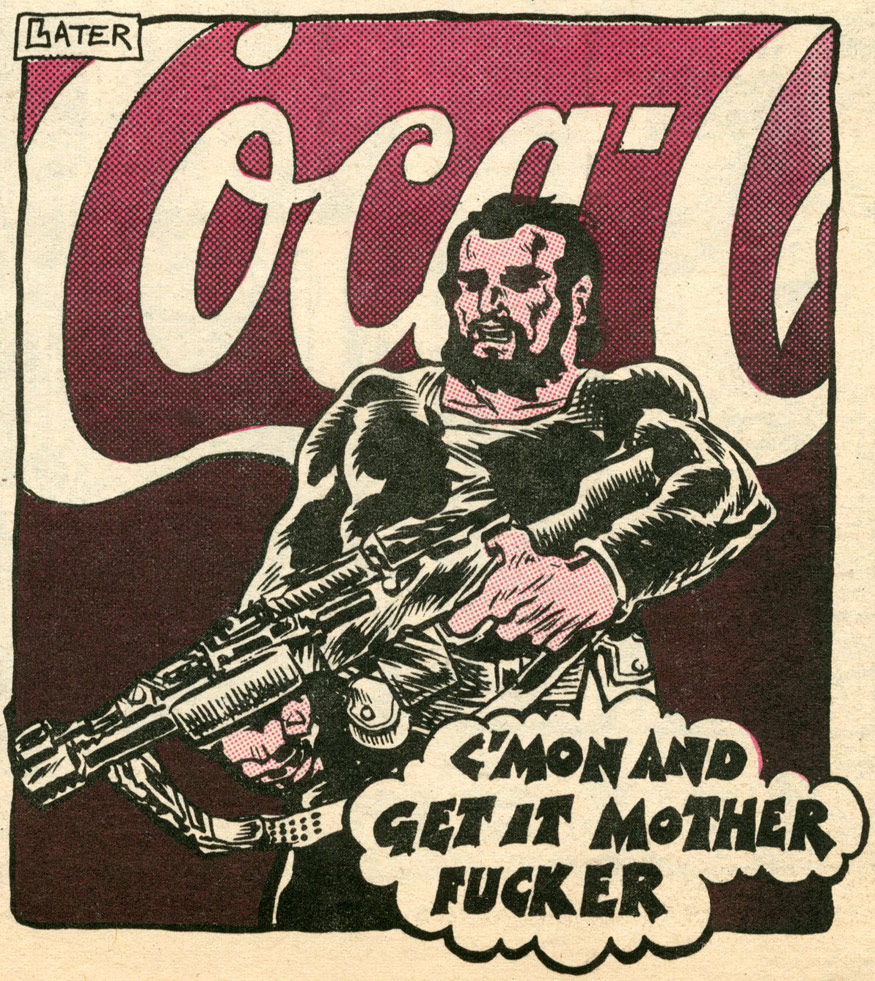 The Collected Trashman (1969)