Harvey Wasserman. © Peter Simon Photography
It's hard to condense a lifetime spent as a committed activist and prolific writer into a short introduction, so please bear with me. Since writing Harvey Wasserman's History of the United States on the communal farm he helped start (Montague Farm in Massachusetts, which, incidentally, is still running as Zen Peacemaker Community, International), Harvey Wasserman has authored and co-authored over a dozen books on a wide range of topics.
He helped found the Liberation News Service in 1968 and contributed regularly from Chicago where he was attending graduate school.  He was one of the pioneers of the global grassroots movement against atomic reactors and lays claim to origination of the phrase "No Nukes." In the late 1970s along with Musicians United for Safe Energy (MUSE) he helped organize a number of concerts and mass demonstrations, including New York City's 1979 No Nukes concert. He has been a tireless advocate of green energy ever since, and, in addition to writing volumes on the subject, he helped found nukefree.org and freepress.org. In 2004 Harvey and Bob Fitrakis exposed the rigging of the election in Ohio, prompting Jesse Jackson to dub them the "Woodward and Bernstein of the 2004 election."
If you haven't read any of his books, but his name sounds familiar to you, it's because you've probably read one of his columns online at counterpunch.org, huffingtonpost.com, Austin's ragblog.blogspot.com, and in Rolling Stone Magazine, The New York Times, The Boston Globe, The Nation, etc.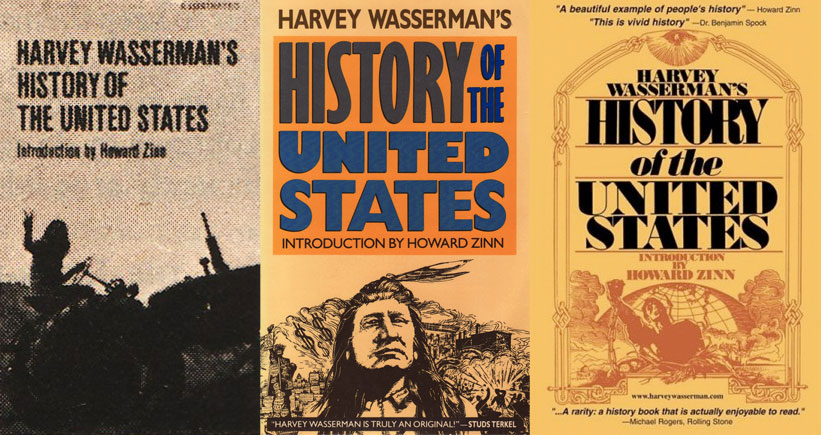 Published in 1972, Harvey Wasserman's History of the United States is one of those rare gems that really is timeless—a pitch-perfect, blemishes-and-all history that leaves you with a deep understanding of and appreciation for the character of this country that no "straight" history could ever provide. A throwback to the great muckrakers of the early 20th Century, Wasserman writes with an energetic irreverence that is truly engaging.

"The Civil War made a few businessmen very rich."

From the very first line, the book is a rapid-fire assault on everything you thought you knew about American history. After reading the book I couldn't imagine what would prompt some young kid in his twenties to think that he could pull this thing off, and so, thanks to the wonders of the internet, I asked him.